The inevitable paper piles - even as a Professional Organizer I am not immune to them! How much real estate do papers take up in your home? The reality is a lot of paper comes into our space and every time something comes in, we have to make a decision and do something with it or, (you guessed it) clutter takes over!
Consider the below as your inspirational and dedicated go-to guide to finally take action and conquer your papers! With tax season underway, we couldn't think of a more optimal time!
1. Be realistic. Papers are one of the most time-consuming categories to declutter and in my opinion, are usually pretty boring for most people. They aren't going to disappear overnight, just like they didn't appear that fast. I often ask my clients to envision how they want their space to feel when they are done with the process – use that as your driving force to push you towards the finish line.
2. Start the decluttering process and know what to keep. The majority of the papers we have are destined for the trash or recycle bin. In my experience, at least 75% of your papers can go. Here is the secret sauce to generally declutter them:
Pick up one piece of paper at a time
Make a decision. Is it:

an archive paper to be filed away (like your tax return)
an action or "to do" paper to stay visible (like paying a bill)
recycling
shredding (when in doubt we always suggest this)

Work in small increments of time or carve out a larger session – whatever is most pragmatic for you
Here is a suggested list of what to keep and purge. Please refer all legal, tax, accounting and financially related inquiries to appropriately qualified professionals.
Forever: Tax returns, birth and death certificates, social security card, adoption papers, marriage and divorce certificate, citizenship papers, copyrights/patents, military service records, major medical records, mortgage/loan payoff statements, wills, living revocable trust, financial power of attorney, durable power of attorney for healthcare (update as needed), etc.)
For as long as you own the item: Receipts for big-ticket purchases (for warranty & insurance claims), vehicle records (title, registration, insurance, etc.), insurance policies
For 7 years (6 years prior plus the current year): Tax backup (receipts, W-2s, medical payments (if itemizing), property taxes, tax forms from banks, brokerages, unemployment, etc.),
7 years after sale: Receipts for home improvements, year-end investment statements
Recycle/Shred: Junk mail, most manuals, pay stubs (once you receive your W2 for the year), almost anything you can easily find online, most receipts (once reconciled with credit card statement unless needed for tax purposes or a warranty), expired contracts
Note: outside of the forever documents, most items can be scanned and kept digitally.
3. Create New Habits.
Set a paper boundary. Boundaries help us make faster decisions and reduce decision fatigue. For example, designate only one or two places to keep papers. You will still need to create a system that enables you to easily access what you are looking for (more on that below) – but by making this simple adjustment, you will know exactly where to look for what you need. In my household, we have a spot for incoming (and outgoing) mail as well as a "paper command center" for our action and archive papers.
Get in the habit of doing something if it is going to take you less than 4 minutes! Did your child come home with artwork? Great, go put it where it belongs. Only 3 pieces of mail today? Go ahead and open them and properly dispose of or keep what you need. These little, seemingly insignificant tasks take up physical and mental space, constantly cluttering your mind and space. If you can quickly and effortlessly do something, give it a try and see what comes of it.
4. Find a system that works for you. Not all solutions are created equal. Think about how you function with paper and ask yourself these questions to get started:
Do you like stuff on your designated workspace or do you prefer clear surfaces?
Do you need to see something to remember to do it? (I do!)
What are your general categories? For example, I have a personal and business wall file.
What do you want to scan? How much space do you actually need to store your papers?
Here are some of my favorite ways you can beautifully and functionally manage your paper piles!
5. Be consistent. Carve out time for maintenance. Figure out your needed frequency and stick to it. Do you like to open mail every day or do you prefer to time block and do it once per week? Is once per month enough for you to pay your bills or submit your out of network medical claims or does it need to be more frequent? If you are going to keep your beautiful new paper management system intact you are going to need to dedicate time to maintain it or outsource it to Let Laura!
You've. Got. This. At the end of the day it's action that is going to relieve your stress and anxiety. And progress is better than perfection, so get in the habit of doing! Do what you have been putting off and we promise once you have a paper management system in place marrying form and function, you will feel empowered and so much more relaxed!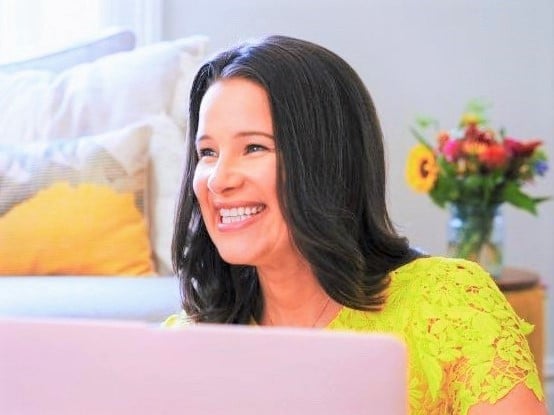 Let Laura
's mission is to help create purposeful places for the important things in your life, opening up space and time to focus on living the life you love. Their clients want to make their lifestyle and physical spaces more efficient, less chaotic and overall better. The Company shares your desire to keep things practical and pretty. Their systems will help you create a life that is simple, stylish and sustainable.
Laura has been called fun, detailed, creative, genuine and optimistic. She has always believed the more positive your outlook, the more positive your outcome. When she is not solving space challenges or alleviating the stress of the moving process for clients, you can find her hanging out with her husband and daughter, traveling the world (she has been to forty-two countries and counting!), playing at the water's edge or cooking up something delicious at home.
Download Laura's all-time favorite organizing products and quick organizing tips to create the space you crave
HERE
. For more inspiration, follow her on
Instagram
.
Related articles:
Macaroni Kid Lower Manhattan is the family fun go-to source for the latest and most comprehensive information in our area. Subscribe for FREE today.